Painting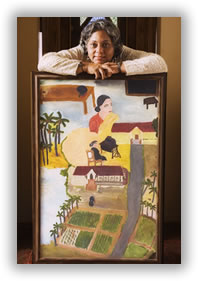 Savia Viegas admits that she has been a closet painter for the last five years. " It's a very private ex-pression,"she says.
Why does she paint?
Savia: To give release to the images that build up as she works on her fiction. "They literally block the highway, its the only way I can make way for the words."
She exhibited 28 works in her home in December 2009 , The month long exhibition was entitled 'Picturing Us' and drew 400 visitors.
Click here to read Gita Chadha's essay ' Picturing Us: A Visual Ethnography '