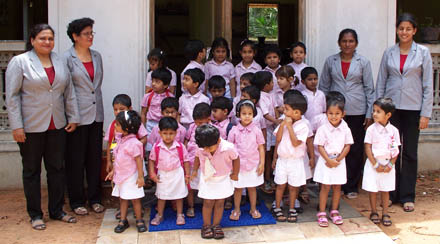 Saxtti Kids
SaxttiKids, a pre-primary school, is run by the Saxtti Foundation Trust. The Trust believes that the villages need to become dynamic living spaces and not satellites of the city. The Trust strives to put people at the centre of development.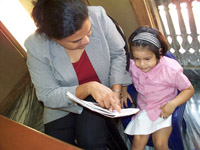 Located in Carmona, SaxttiKids offers a professionally-run facility. The school is located in the backyard of the old house and the house's old facilities have been revived and modernized into children's playrooms and learning areas.
SaxttiKids has a sandpit, an outdoor play-kitchen, a cycling quadrangle, paved assembly area, several outdoor toys and vast verdant spaces for children to play around. The walls have huge murals which give the school a bright and enchanting look.
Story telling and concept formation sessions take place both indoors and outdoors. SaxttiKids also has a unique toy library, stocked with educational and play materials.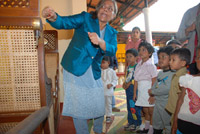 SaxttiKids has three classes – nursery, junior kindergarten and senior kindergarten. Each class has two teachers and a helper. Savia herself flits in and out of the classrooms carrying her plastic chair and a pile of assorted teaching materials. In addition, the school organises free educational excursions and field trips
SaxttiKids is managed by a team of experienced and professionally-trained teachers, practicing an ideal child-teacher ratio of one teacher for 10-12 students. The school uses advanced and innovative teaching methods.
What media says about
"Saxtti Kids is among the four best pre-primary schools in Goa"
- Goa Today magazine
"Saxtti Kids has two teachers for every 20 students, whereas in any other school in Goa, one teacher handles 40 students"
- Mario Cabral e Sa in The Navhind Times
"Saxtti Kids is a pre-primary school that breaks away from the norms. It is a new age nursery school "
–
Gomantak Times